LIES! LIES I TELL YOU!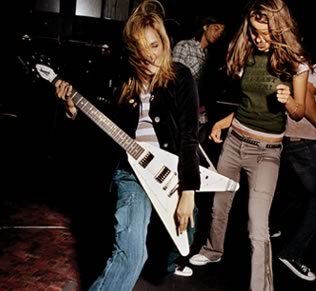 First off: is this even a chord?! Just look at these anorexic pieces of scumfuck poach a perfectly good Flying V! Its not even plugged in! Look, no quarter-inch chord to even connect it to a remote unit. ARRRGGGGHH! These are the American Eagle clones that ruin a show; they bring their boyfriends that are wearing the shirt of the band playing and 'rock out' during the one radio song. OR their boyfriend is in the shitty bar band playing so she got in for free and didn't have to blow the doorman to get in. Cartigan with THAT undershirt? Social sucide I tell you. Those pants- bad. Just really bad. Don't get your rock out moves from American Eagle... I'm warning you. Go wallow in your lameness with the All-American Rejects
Here's a variation on the whole 'bandito' look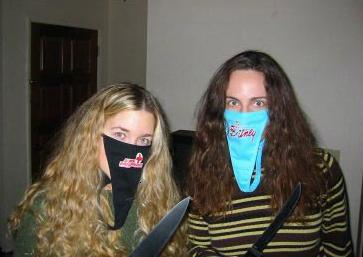 We all know the 'bandito' look. Go to Hellfest for a day and you know what we mean [yea we know, wearing a bandana there was to keep outthe dust- whatever]. Using panties though is genius; keeps the dust out and allows you a spare 'just in case'. Plus as an added bonus you can throw them at the band after. Why did that craze never catch on in the hXc scene? Every other stupid retro trend did, BUT that. All I know is that if it' good enough for Tom FUCKING Jones, it's damn well good enough for Darkest Hour.
Our very own Roach is all grown up and rocking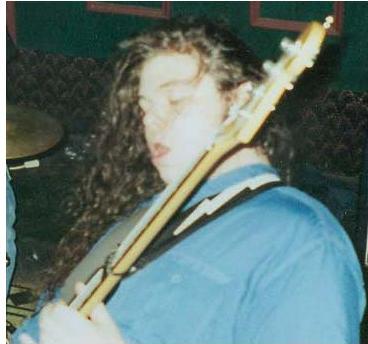 Let's be fair, hair a flutter in the wind is the surest sign of a band rocking hard in a still photo, and with that much of a coif we know its the real deal. Haven't we all had enough of hard core bands doing the slow f/stop thing so the person being photographed is just a blur. Stop, it doesn't make you artsy, and if you ARE an art student you should be ashamed [not just because your an art student, but because that style is even more cliche than splatter font]. Regardless, note the lightening bolt on the bass.... IT'S LIKE HE'S PLAYING FUCKING LIGHTNING! LIGHTNING!
Grant makes the track jacket work...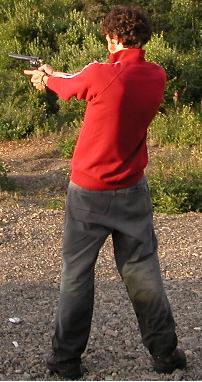 Is that a 45 Magnum? You know the most powerful... uh... handgun in the world? Oh it is? And pointed at me? ......Honest, whatever..... I said ....about track jackets......I take it back. Well at least yours Grant....... You... uhh... make ... it look....umm.... deadly.... ? Red... absolutely stunning! Yup stunning! Please don't hurt us!
HOODS UP!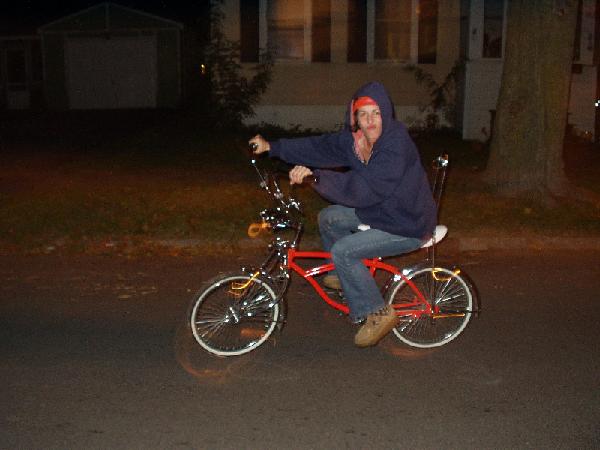 Cruisin' on a bike in the fall. Sure your fingers hurt like sons of bitches, but this kitten knows that to ride one of these is to ride in style. Thus the obvious 'Hoods UP' look. Few things scream "I'm a bandit" than this. Plus that facial expression says 'I don't give a FUCK about your fashion website.... I am on a goddamn Low Rider muthafuckah!. Lick me where I pee!'
For Those About To Rock...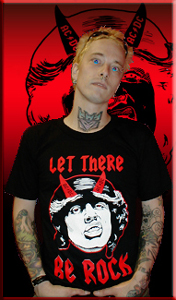 Hmmm, a good tattoo with bad placement. Thank the lord above that your wearing a black Angus Young tee. You had better be able to name some tunes not on 'Back in Black', that's just too easy. Anyway, I have seen too many people get good ink in bad spots. I know you aren't out to impress me persay bro, but c'mon, it just doesn't sit right.
terrorfashionchic?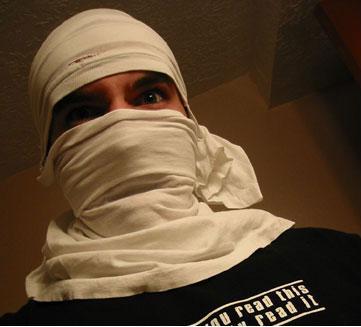 There IS a class war going on and the elite are winning: 80% of this nation's wealth is held by the top 10%. That is fucked up. No one cares, or do we? We are the ones that can instrument change. We have seen too many people we know go forward and be just as self indulgent as the generations ahead of us, and even though we preach til we are blue in the face does it seem like we are gainign ground? Get on the independent media circuit, go to protests, and if you are afraid of being on camera, cover up. No laws against it, and we have the CONSTITUTIONAL RIGHT to do so. Go be a warm body and if the situation calls for it, rise against the establishment- and still NOT be apart of mob mentality. We can do this!