Thank Your lucky Stars the 60s are over
The sixties left us with a few rad bands, but many more that had no fashion sense, even the Beatles went through the lame-ass "colorful" stage, the worst of it being demostrated here by the Tages. It is only a matter of time before the next lame (Strokes) Fashion Band starts whipping this out on the unsuspecting , easily influenced Kids that read Spin. Be ready to fight Kids, it is their suits or your dignity.
Nice pants there girlie!
Hey!!! Unless your legs are bigger than your torso, you need to cut those wretched pants into pieces and make mini-skirts for your 15 favorite girls. Really kids, there is NO EXCUSE FOR RAVER PANTS. fuck those pants and fuck ravers (nothing personal).
Meghan sets ya straight.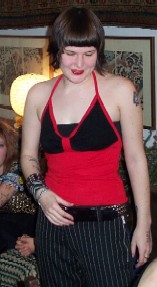 pinstripe slacks and the red/black top: we're stunned! An excellent combo, mad props to meghan! The pinstripes recall the gangsters of our grandfolks, and the top brings the whole package together with a bold, yet confident, flair(notice the layering). And to top it off you could cut yourself on those bangs...wow.
Ben relaxes in his natural habitat.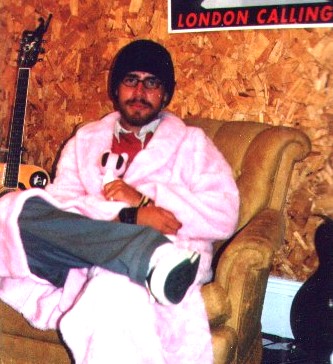 Ok, chipboard wall, Clash poster, fuzzy bathrobe w/matching slippers? This kid obviously IS punk rock. I mean, does he look pissed off? No. Does he look wasted? No. Does he look punk? Not entirely. Does he look comfy? Mad comfy. And that is what punk rock is all about: Comfort and slippers...er, wait a minute...
Rockester kids sit tight.
OK, left to right: 1st kid is doing great except for BLACK-PANTS-WHITE-SOCKS. Did you know in europe they think american guys all wear white socks? You are not helping here guy.
2nd kid is rocking the long/short sleeve layering effect to the max. one thing to watch out for when you're wearing a black longsleeve under a red sirt is that often black pants will "really tie the room together, Dude".
kids, look at the 3rd kid from the left. Now take notes.
The kid all the way on the right is rocking that hardcore raver thing, it looks like. It works for our boy Josh, but we were really hoping he would be the only one. This is a deeply personalized look, and should never be attempted with out careful considaration of what your peeps will put up with. Just a word to the wise.
The ROCK beater. Wonderful!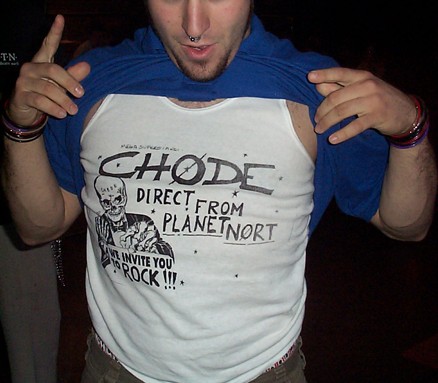 That's like being a superhero of rock. Especially when you're all gettin' busy, and you start disrobing: instant conversation on the state of the universe, and how that stae affects interplanetary Rock. It's like you get to eat your cake, and wear it under your clothes too. or something. More bands need beaters, that's for sure.
Ion rocks the elmers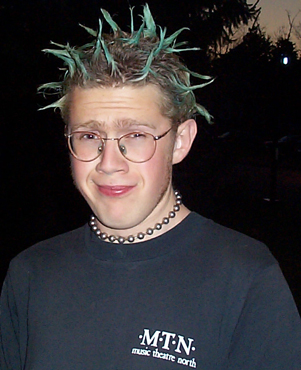 Ok Ion, with hair like that, you NEED a flashier shirt. end of story, but you get the thumbs up, because we at superfashionchic are all about glue.
Hey kids! It's ok to get dressed up for shows. It's ok to rip it up and have fun. Just try to wear a flashier shirt with your flashy ass hair...but at least this kid has the nuts to dance his ass off at shows.