"Jesus CHRIST, just get over yourself!"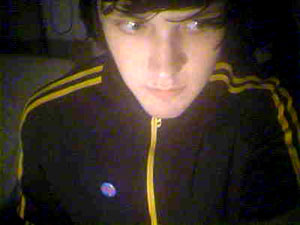 THERE'S a look i never see at shows. i wish i had thought of the retro 70s track jacket, kinda says your sporty yet in that "i don't really workout" kinda way. the real problem is that that coat is made out of polyester. polyester is A: made of synthetics (read as: oil- which should give off some warning signs) and B: not breathable. if your coat's not breathable are you going to dance? [dance not just mosh]. NO, you're probably going to sit against the wall with your arms crossed or writing in your diary. LAME! i've said too much already BUT ... nice hair skeazeball. the shag IS the new mullet.
"It is I.... Captain Tries-to-HARD!"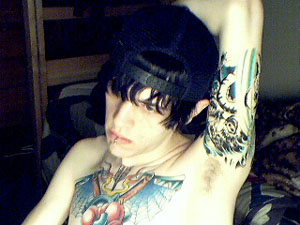 oh god, i can smell poser from here. can we ALL see this duder is trying to hard? mesh cap- backwards and to the side? dyed black hair - why god, why? neo trad tattoos - hellllllooo laser surgery in 6 years. why no shirt - ain't got too much to sport. i blame the ladies. honestly. all you gals want... well, this and don't realize the travesty to humanity you're causing. i mean i swear i have seen vegans and Ethipoians with more meat on their bones than this fella. and what's wrong with a little meat huh? we here at superfashionchic are by no means supporting fatness, but damn.... it just pangs me to look at him.
"Did anyone tell you I like Vans"
product placement OR paying someone else to advertise for them. i have real problems with this, especially after working retail. the argument that arises is: aren't band tees the same thing? the answer: no. see a band rocks your ass, they make you dance, they make you want to get drunk, they may even get ya randy. a corporation is a soulless entity. they have 'marketing dollars', they 'market test' to see what will sell, they 'tone down' an image to be just this side of edgy. so if you are wearing a shirt like that, even a skate company shirt, you are either supporting terrorism or pop-punk, and no one wants either.
"Watch out.. there's an alien on your head!"
here's a man that seems to be enjoying himself at an open mic at the Monopole in Plattsburg. that black tee and with a wood finish guitar makes you look artsy; the definitive way to get hippy tail and not be a hippy. not a bad move at that. though instead of strumming Phish jam outs, play your favorite Dillinger Four tune acousticly, you will seem way more intelligent than her friends. they will be so awe inspired that they will totally ignore the hat. just stay away from Bright Eyes and don't be tricked into thinking 'granola-punk' is cool.