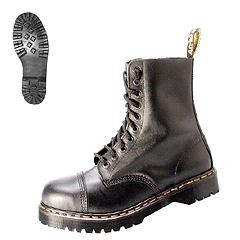 Hey kiddos, today we thought it was time to look into what your wear not only for the chic, but also now for protection. Protection you say?? What are you talking about nofashionlou? Ever notice that scene fashion can be a wee more tougher than American Eagle, ever wonder why everyone in the room has a wallet-chain; for the simple fact that what you are wearing is a self-defense Swiss army knife. I have been commissioned by superfashionclaude to outline some key scene accessories and how to make everything you are wearing a two pronged attack of stellar fashion and ass-kicking. But please note, I am not trying to instigate a fight; if you are going out there to pick a fight then you are an asshole and hopefully you will be put in your place, quickly at that. This page is trying to help you kids out with self-defense in case jocks, frat boys, rednecks and even fellow scenesters are picking you on. [Also just so you know, the title is not in reference to New Found Glory, in fact if they ever tried to pull off anything mentioned here they would just end up in the gutter, whining about the pain]

First things first lets look at the basics: footwear.
Are you rockin the environmental friendly / labor conscious sneakers? Well good for you.you can run very quickly from would be attackers. And deterrence is cool; avoiding harm is in fact NOTHING to be ashamed of, unless of course you just left 2 friends back there. OH NO!! You just sold them out faster than Blink-182.
So, nofashionlou, what should I sport in the feet department? Boots have been a help to punkers since 77 and before. US military combat boots are supertough and crazy cheap [just dont get the jungle boots if you live in cold climates, spring will suck!] or standard work boots. Personally I feel its necessary to put a little more TLC into your feetsies so if you can spring for a pair of Doc Martens or Grinders. Both these boots last for almost ever and form to your feet perfectly so you can kick and run with no problem, who could ask for more??? Also if you can, go for the steel-toe pair and add an extra wallop to that sorority biznitch who called you a slut at the bar.
Well now that you are naked except for footwear we should probably move to other areas, like Pants.
Pants are a secondary backpack [note on backpacks very good if you are a nomad or squatter, dont wear into mosh pits or into bed like I have seen some scenesters do], especially if you are not working the retro-nut-hugger-thang. A little bagginess and a few cargo pockets can go a long way, such as allowing for the carting around of beer bottles past your parents/RA and a few other little trinkets. But BEWARE if you go out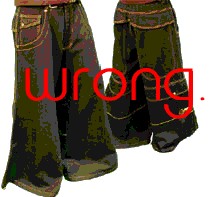 and get a pair or enormous pants because then you will not even be able to fight cuz you will be tripping all over your damn pants, probably so much that you will just disgrace the scene. Just like an SUV - bigger is lamer, that goes for bagginess and waist too.
Waist? Whats wrong with a huge waist on my pants; havent you ever heard of a belt nofashionlou? Yes I have and that is our next defensive measure: The Belt. A while back superfashionclaude noted that studded belt everyone wears at shows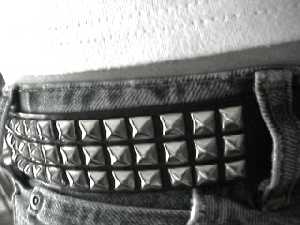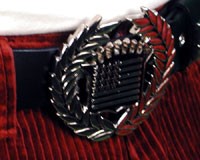 ; those are great tools of protection!!! In a jam, just whip it off, wrap the non-buckle end around your wrist and start swinging the buckle around. Any belt will do but start adding spikes and studs and you are on your way, or be super-fukkin-tuff and wear a bullet belt. Other great additions to a belt include large belt buckles, not only are they cowboyfashionchic but they add great momentum to the faces of bar goers who think fighting is cool, the next morning, after they have been to the dentist they will think otherwise!!!!
Neat stuff can go into pants pockets too. Those beer bottles you were sneaking in can be tossed or just broken and used to stab. If you had exceptionally large pockets: think forties and the same actions. YEEE-HAAAH. We will touch on the other wonderful things that you can carry, but lets get back to the clothing itself as armor.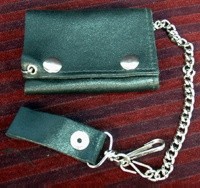 While we are on the waist area, lets just look at wallet-chains shall we?
This is a weird area as that you cant swing your wallet around and hope to inflict damage; that aggression just will not stand. You can grip the wallet and use it to help you punch, but that has potential of being useless. So, if you can, take that wallet off the chain quickly and start swinging. Hopefully you wont get beat down and have your wallet stolen, but hey, they were going to nab that regardless. Another great thing to do with a chain is wrap your knuckles with it just make sure you do this tightly; any slack in the chain and you can break your hand.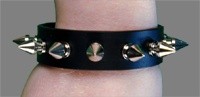 Now the torso
Sad to say the actual chest area itself is hard to utilize in a fight, what you can do though is work a leather biker jacket into more than a billboard for you favorite bands [which is cool]. You, again, can add studs and spikes, especially on the forearms and elbows. Also the carrying power of the jacket is great, and you actually dont want to be burdened with too much stuff so you have some mobility to throw bunches and block.
The wrists are the carriers for more to come. Bracelets with studs and spikes can be slipped quickly down over the knuckles for brutal punches and being an asshole in a mosh pit [dont be that kid at a show I mean it!]. Also bullet bracelets are intimidating enough to keep would-be attackers from actual doing a tango with you and your dyed hair companions.
Hands can rock the rings, like a small battalion of brass knuckles or car keys if need be.
The neck can be a source of fun too!!! Ladies a sharpened spiky cat collar will stop a relatively sober confrontee from choking you. Guys same thing; or knuckle wraps and whipping can work, maybe just not as well as the belts / wallet chains. Chain necklaces from the local hardware store can be ultra-accessorized with a padlock.

To top it off we now have the head
Not too much here, other than to remove as many piercing as possible. Keep that fashionable hair outta the way and AVOID HEAD SHOTS!!! Thank you.

Well, the fight was inevitable. What should you have on you that wont get you in trouble in case police decide to have some fun and search you and your friends for whatever lame excuse they can come up with. These next things talked about are what to carry so you dont have to worry too much about legal issues [for the most part]. Remember, there is a huge difference between attack and self-defense
As mentioned before beer bottles, if you are underage you are fucked. Hopefully you can play dumb enough that the cops will just take you home and tell your parents. Oh well if you were being an irresponsible dink then maybe you have a problem with substances and should go straight-edge to get a grip on reality.
Cigarettes are great to throw, flick or extinguish on people getting in your face because you look so weird. Be aware that they may have them too and are a one-time use only event [common sense sure, but for the youngins in the crowd].
Knife in your pocket? DONT USE. Many local laws say just having a knife beyond penknife size is intent to use and therefore you should not carry, you can be arrested and not have the same luck as underage drinking. Switchblades are illegal to carry the US over. And if you dont know how to fight with a knife then you may as well leave it at home. Since chances are, the other person might, and try to get it away from you and use it on you. But if you must you must
Small batons or ends of pool cues fit nicely into baggy pants pockets or jackets. What no pockets inside your attire??? Well grab that needle and thread and DO IT UP!!! If you need to commission a hippie to help out, we can all look the other way.
Need to rock a punch? Try using a roll of quarters. This costs $5 [20 x $.25] but that is two 40s come the end of the day. Wrap you fingers around it tightly and utilize the momentum.
Fireworks can be nifty too: Roman candles, M-80s and such are just going to be confiscated if you get caught with them. But can be useful for diversionary tactics
Safety Pins can be used as style but on occasion add a little flava to an elbow.
Guns- go fuck yourself cowboy.

Now for inspiration
There are those old-skool types who see all this as weak; all you need is anger and a weight set. For example look at the old Misfits, Danzig especially, heres a large fella who never needed a wallet chain. Or Henry Rollins, a larger fella who didnt even need shoes/shirt/or pants. Well, nofashionlou, those guys are just jock meatheads. That may be true, oh young one, but they knew what was up regarding a fight.
If you must, then take some inspiration from Fight Club, keep your hair short and you fingernails well trimmed. Hey by the end of the film you will have a hankering for some mayhem, the Pixies and feel you have been missing out on something fun all this time.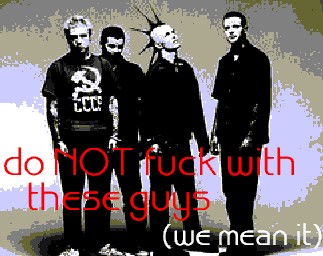 DO NOT FUCK WITH THESE GUYS [for your own protection]

Part The SecondRevenge
Now lets say you got jumped/picked on by a pack frat boys. One versus 7 seems like shit odds to me too. So you rock the Op. Ivy motto in your head; UNITY AS ONE WE STAND TOGETHER! and get ready for some revenge. Call on the scene to help you out with a ghetto/MacGuyver/A-Team attack strategy.
First find a chemistry student, they will have all the materials needed for the Anarchist Cookbook [not here, gotta find it yourselves kids].
At this point anything goes just this side of lethal: slash car tires, paintball guns, pellet guns [18+ at Wal-Mart], sugar [or eggs] in the gas tank, and cherry bombs [M-80s] in the mailbox. Do nothing to them, just their possessions. Not enough? Get inside during a house function and pour 40 pounds of cement into the toilet main, trust meentire system is useless. Still not enough get that really crazy scene kid to kill their pets. Harsh - yes. Poorest of taste - you betcha. Lasting impact - assured.
Oh sure, of course there may be legal implications. Just have everyone wear black hooded sweatshirts and jeans and make sure you have an alibi. Like you were out of town, and actually go out of town and have it on video [bank surveillance camera or such] that you were NOWHERE near what was going on.